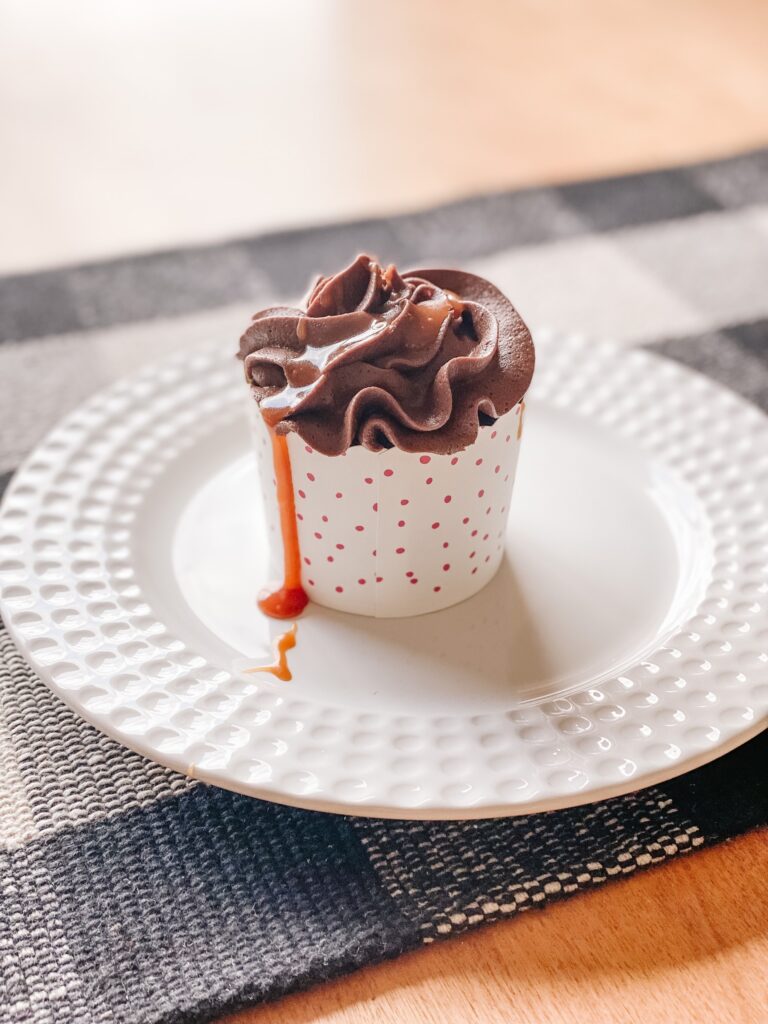 Christmas Caramel Cupcakes
You'll find this yummy cupcake mentioned in A CHRISTMAS CANDY KILLING, the first book in the Killer Chocolate Mysteries. This cupcake is the perfect blend of chocolate and caramel and will melt in your mouth. The caramel sauce can be a tiny bit finicky to make, but so worth it. It's definitely worth an arm wrestle!
Chocolate Cupcakes: 
Now, I'll be honest, I usually use a cake mix. But every once in a while I'll make them from scratch. So if you're so inclined, here's a yummy recipe.
1 cup flour
½ cup unsweetened cocoa powder
½ teaspoon baking soda
½ teaspoon baking powder
1/8 teaspoon salt
½ cup unsalted butter, softened
1 cup sugar
2 large eggs
1 teaspoon vanilla extract
1 cup buttermilk
Preheat oven to 350˚F. Line a muffin tin with muffin liners.
In a medium size bowl sift the flour, cocoa, baking powder, baking soda, and salt.
In a separate bowl, with a hand mixer or using a stand mixer (use the paddle attachment), cream together the butter, sugar on high speed for a few minutes, until the mixture is pale and fluffy.
Add the eggs, vanilla, and buttermilk and mix again until well blended.
Using a spatula, fold the dry ingredients into the wet ingredients until just combined. Don't over mix.
Divide the batter equally between 12 large muffin liners. Bake for 18-20 minutes or until toothpick comes out clean. When done, remove from oven and set aside to cool for 10 minutes then place on wire rack.
Caramel Sauce:
1 cup granulated sugar
6 tablespoons unsalted butter, cut in pieces
½ cup heavy cream (whipping cream in Canada)
½ teaspoon salt
Heat sugar in a medium heavy-duty saucepan (try not to use non-stick) over medium heat. Stir constantly using a rubber spatula (heat resistant), or wooden spoon. Clumps will form and eventually melt into a thick, amber-colored liquid. Continue to stir. This may take a while. Be careful not to burn it. 
When sugar is completely melted, immediately stir in butter until melted and combined. Stir continuously while the butter melts and mixes with the sugar. Caution: the caramel will bubble vigorously when butter is added.  
Once butter has melted and combined with caramelized sugar, slowly, stir in the heavy cream. Since the cream is colder than the caramel mixture, it will vigorously bubble when added. Continue to stir throughout. 
When the sauce is the right consistency, remove from heat and stir in the salt. Allow to cool slightly before using. Caramel will thicken as it cools. 
Chocolate Buttercream Frosting
1 ½ cup unsalted butter, softened
5-6 cups powdered icing sugar
1 cup unsweetened cocoa powder
4 tsp vanilla
2-3 tablespoons milk
In a large bowl, beat butter until light and fluffy. 
Add powdered sugar and cocoa and mix again until well combined.  
Add vanilla and mix. 
Add milk 1 tablespoon at a time, and beat on high speed until right consistency. 
Assemble the Christmas Caramel Cupcakes:
Using a knife or a cupcake corer, cut out a small hole in the middle of each cupcake.
Fill with 1 – 1 ½ teaspoon of the caramel into the cupcake holes.
Top the cupcakes with frosting. I use Wilton's #1M open star tip.
Spoon a teaspoon of caramel over the top of the frosting.
Serve.