When our winter getaway to Huatulco, Mexico was booked for us, my husband and I expected hot days lounging in the sun. We had no idea our trip would include encounters with three tarantulas, one scorpion, a temperamental water pump, earthquakes, a sketchy property manager, killer bees, and a dead body.
For months prior to our departure we had been enchanted with pictures of the stately Casa Lukanna where we would be staying for the first couple weeks of our time in Huatulco. We dreamed of beautiful palm trees, lounging outdoors on the veranda, and drinking yummy, frosty beverages around the large backyard pool.
To be fair, we had also been told about the rather large boa constrictor that had almost slithered up to one of the previous guests on the veranda and that a tarantula had been spotted in the backyard, but being forewarned we planned to keep our eyes open and our shoes on. Plus I had immediately ordered a bug tent from Amazon (after hearing about the tarantula) and packed it in my suitcase. It was the first thing I unpacked and set up on the bed upon my arrival. I didn't plan to close even one eye without being safely ensconced in its protective barrier.
Things at Casa Lukanna were not quite as perfect as we had expected them to be. The first thing we discovered on our arrival was that the lights didn't work in the kitchen and dining room. No problem. We'd just make sure we ate before 6 p.m. when the rooms became darker than Hades. We lost a few pounds while staying at Casa Lukanna as we didn't snack after dark. Once we discovered that the house hosted creatures both great and small we became far more reluctant to enter the kitchen after dark. Did I mention the parade of ants throughout the house? Apparently, the property manager had been called and we had been assured the problem would be fixed. Soon.
A few days after our arrival we got to visit with the previous residents of Casa Lukanna, my son-in-law's parents. During our get-together they mentioned all their problems with bugs at the house and gave us more detail on the boa constrictor incident. They also mentioned the occasional annoyance of the water being unavailable due to a faulty pump. Something we had not yet experienced. They assured us that a firm thump on the water pump located in the utility room under the veranda would have the H2O flowing in an instant. Their solution to the bugs had been to move to a different location. Not really helpful advice for us at that moment, but we weren't looking to move anyway. Aside from a few ants we hadn't yet experienced any of the horrors to come. They also assured us that we would probably never see the property manager or have any of the issues fixed. Hmmm.
Almost immediately after visiting with the in-laws the water pump began to do its thing of shutting off at random times. I'm sure they jinxed us (hahaha, just kidding Dawn). Of course the first time was well after dark. As I made my way to the utility room with my phone's flashlight lighting the way, I prayed I wouldn't encounter any creepy crawlies or slithery snakes. I found a heavy handled knife in the utility sink and used that to give the water pump a good whack. Initially, the water pump went out just once or twice a day. Then it became five or six times a day, and eventually late one night we couldn't get the recalcitrant pump to start at all. Thankfully, it had a change of heart in the morning and chugged back to life after a solid thumping with the knife. We were still waiting for the elusive property manager to come and look into the lights. We added the water pump to the list.
Also around the same time our internet decided to make like the lights and go out. No amount of rebooting, cajoling, cursing, or crying could get it to come back. The property manager was contacted and promised to look into it.
At just under a week at Casa Lukanna we came home at dusk and discovered a scorpion hanging out in our entryway. I won't mention how we handled that. Suffice it to say my cozy mystery research and a spare shoe were put to use. After that I gave each room a visual check before sitting down. Shoes and clothes were also given a shake before being put on.
It was soon after this when the guys staying in the backyard casita (bachelor unit) invited us outside one evening (a place we had been avoiding after dark) to see the huge tarantula they had discovered lounging poolside. The four of us thought it would be a good idea to relocate the tarantula to the property line in hopes it would see the benefits of moving to the golf course the property backed onto. FYI. Tarantulas can swim. We discovered that as we tried to carefully capture the not so little guy. Instead of letting us pop a big bucket over him, he hopped into the pool and promptly swam to the other side. My husband did eventually get our furry friend over to the fence where it watched us with its beady little eyes. I'm sure as soon as we went inside he returned to his sojourn by the pool.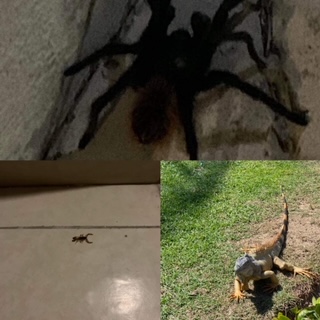 The very next day my husband, granddaughter, and I were on a small private beach, miles from Casa Lukanna, for our second encounter with a tarantula. I was innocently sitting on a rock and enjoying the waves washing up on shore when my granddaughter pointed to something that had just crawled under my legs and was making its way along the sand. It was a tarantula. And that's when I almost had my first heart attack. I fell off the rock in a most undignified way as I tried to scramble away from the furry eight-legged menace. Did I mention my extreme fear of spiders yet?
The day after our second engagement with a tarantula we were back at Casa Lukanna, which we had affectionately started calling the Jungle House, and our grandchildren were visiting. We were in the front hall with my son-in-law's assistant, Anthony, when the kids kept running in all excited, insisting we needed to come and look at what they'd found in front of the house. I explained to the children that I would come out to see their find when Anthony and I were done speaking. After the third excited interruption by the children, Anthony went to see what had the kids so animated. He came back almost immediately with the children and told us to close the door and stay inside. He soon returned and explained that a palm frond had fallen from a tree outside the front door with a killer bee's nest attached. He had moved it across the street to an empty lot and "took care of it." Now, I'm no bee expert, so all I can say is the nest definitely had bees in it. Were they killer bees? Anthony has lived in Mexico all his life, so I wasn't going to argue the point.
Tarantula number three appeared several days before our departure from the Jungle House. As I flipped the light switch to on in my bathroom preparatory to performing my evening pre-bed ablutions, there on the wall was another tarantula. That's when I had the near miss with heart attack number two. Once my heart started beating again, I called out to my husband to join me in the bathroom. After we both took a few pictures of our visitor, my husband did his husbandly duty and removed the creature from the bathroom.
In the meantime, we were still without lights in our kitchen, had spotty water availability, and no internet. At one point the water issue had become particularly bad and we had been assured the property manager would be at the house the next day at a specified time. Needless to say, he never arrived. Though he did arrive unexpectedly the day after that. And I immediately knew he would be the inspiration for a victim in a future cozy mystery. He was the epitome of what I think of when I hear the word smarmy.
By the time the property manager had finally showed up our water had already been restored, so he said he'd look into the internet issue. Sadly, he managed to escape before we could corner him to discuss the lack of lights in the kitchen and dining rooms. On the bright side, my husband and I were both down four pounds.
Shortly before our son-in-law's parents' departure (a story in itself), we'd had the opportunity to have dinner with them. One of the things they'd asked was, "Have you seen the blood stain on the mattress yet?" Huh? They told us to check out the mattress on the bed when we stripped the sheets. Upon stripping said sheets I discovered I had been sleeping on a mattress where a scene reminiscent of the Godfather movies had occurred. The bloodstain, and there is nothing else it could have been, could only have resulted from a serious wound. Like a stabbing, or being devoured by a family of tarantulas. No paper cut caused that quantity of blood.
Despite all the quirks of the Jungle House, we'd really come to enjoy our time there and were reluctant to leave. Plus, I was enjoying the new slender figure I was sporting thanks to the no snacking routine we'd adopted. So when the in-laws left the condo at the Santa Cruz marina, we decided to stay a few extra days at the Jungle House. But the time finally came for us to say good-bye to all our new six and eight-legged friends. We packed our three massive suitcases and array of smaller bags preparatory to our move across town. We only had to watch the YouTube video twenty-two times to figure out how to get the bug tent back into its little round bag.
Our new accommodations at the marina condo were luxurious with not a tarantula in sight. It was a little noisier, and we traded the pool for beach front, but we weren't complaining. We couldn't believe it. All the lights worked, a non-stop supply of water, and the holy grail of existence…we had internet…well, sometimes.
We also got to experience our first earthquake. It happened in the middle of the night and while brief, it was a severe shake that woke me up instantly. I have to admit it took me quite a while to fall back to sleep that night, especially as I felt all the little after shocks.
Our second earthquake was at least a week later and happened during the day while we were visiting at my daughter's condo. The quake was a little longer, but not as strong as the first one. By then we'd also gotten used to the idea of the earth moving beneath us and were much more relaxed about the experience. I realize many people throughout the world deal with earthquakes all the time, but this girl has lived in Ontario and Alberta, Canada most of her life and earthquakes there are extremely rare.
So I'm almost to the end of my experiences and I did mention a dead body at the outset of this stroll down memory lane. We travelled to Puerto Vallarta and spent three weeks there towards the end of our trip. The resort we stayed at played host to about as many iguanas as people. The iguanas particularly liked to frequent the adult pool area in front of our building where we liked to spend part of our day. One afternoon after I woke up from a little nap on one of the poolside loungers, my husband mentioned there was an iguana behind by chair "sleeping" with its legs in the air. Now I'm no animal or reptile expert, but I know iguanas don't sleep in that position. At that point I would have bet my next tropical fruit drink that the iguana's nap was a permanent one. After taking a peek and confirming Iggy was indeed on the ground, feet up, I assured my husband that this iguana wouldn't be waking up again. Ever.
It turns out my camera happy hubby had managed to capture the iguana's final moments on video. We now include Iggy's death throes in our popular vacation video series, Eight Weeks In Paradise. We've managed to trick, I mean invite, one set of relatives into watching our home movies and expect to do another showing next weekend.
I'm looking forward to the inspiration from these experience to influence my writing for many years to come. It has certainly confirmed what I've always thought, life is often stranger than fiction.
P.S. If you're looking for a great place to stay in Huatulco I can hook you up! (…and she laughed and laughed.)