The Killer Chocolate Mystery Series
– A Christmas Candy Killing: Available Now
-A Nutcracker Nightmare: Available for Pre-Order (RELEASE DATE OCTOBER 17/23)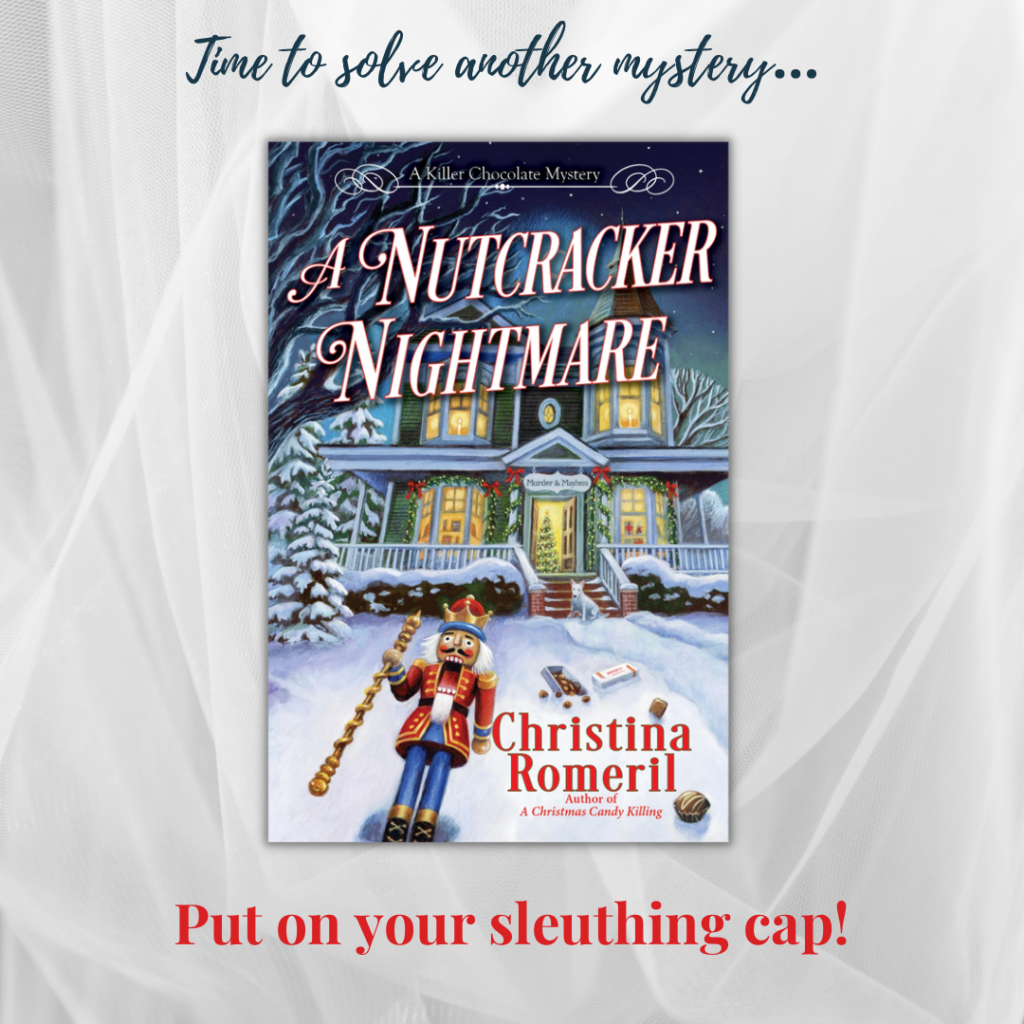 NOW AVAILABLE FOR PRE-ORDER!
"Romantic woes and plenty of guilty-looking characters…(A) cheery Christmas tale." –Kirkus Review
AVAILABLE IN HARD COVER, EBOOK, AND AUDIO
Hanna and Alex, owners of the Murder and Mayhem book and chocolate shop, are busy preparing for the Harriston High School's reunion weekend. Neighbors will connect with old friends and perhaps try to avoid old foes. One person no one can avoid is Kyle, the former star quarterback, who is busy using his entire playbook to try and score with Hanna, even threatening her is she doesn't play nice. At the reunion, Alex glimpses more drama than nostalgia as insults are flung around like a football at a Friday night game. The party is put on hold when Alex finds the dead body of none other than Kyle himself, bludgeoned to death by a nutcracker the sisters admired earlier in the night.
Hanna quickly becomes the prime suspect– someone saw her slap Kyle in the face at the reunion dance. She'll need her sister, their sleuthing canine, Watson, and their old friends and colleagues to help break this case wide open. While looking through old yearbooks and taking a stroll down memory lane, Alex uncovers a few secrets about Kyle, now, it seems like everyone had a motive to kill him.
But when the suspects start becoming the victims, Alex and Hanna know they can't melt under the pressure–they must find the killer before they become just another yearbook memory.
"Readers are in for some more murder and mayhem, as twin sisters Alex and Hanna have a new case to crack right before Christmas….A Nutcracker Nightmare is a cracking good time and a delectable addition to the series."
–Korina Moss, Agatha Award-winning author of the Cheese Shop mysteries
Pre-order links below (US)
https://www.penguinrandomhouse.com/books/729837/a-nutcracker-nightmare-by-christina-romeril/
https://www.amazon.com/Nutcracker-Nightmare-Killer-Chocolate-Mystery-ebook/dp/B0BSKRF471/ref=sr_1_1?crid=F9EAX9RD8JOX&keywords=a+nutcracker+nightmare&qid=1689219603&sprefix=a+nutcrackrt%2Caps%2C145&sr=8-1
Pre-order link Canada
https://www.penguinrandomhouse.ca/books/729837/a-nutcracker-nightmare-by-christina-romeril/9781639104918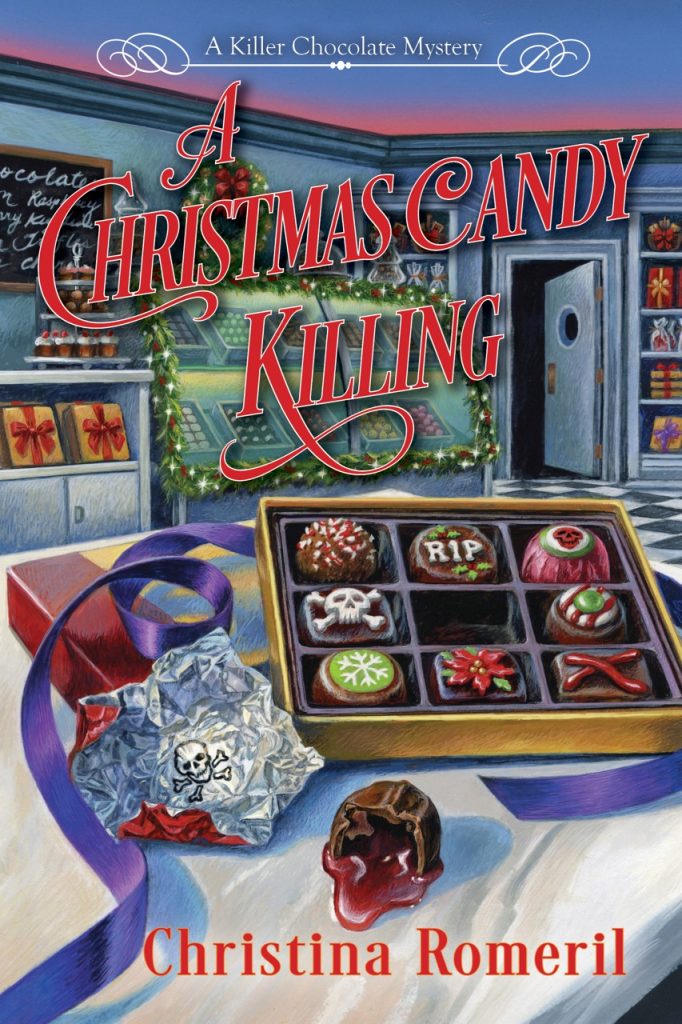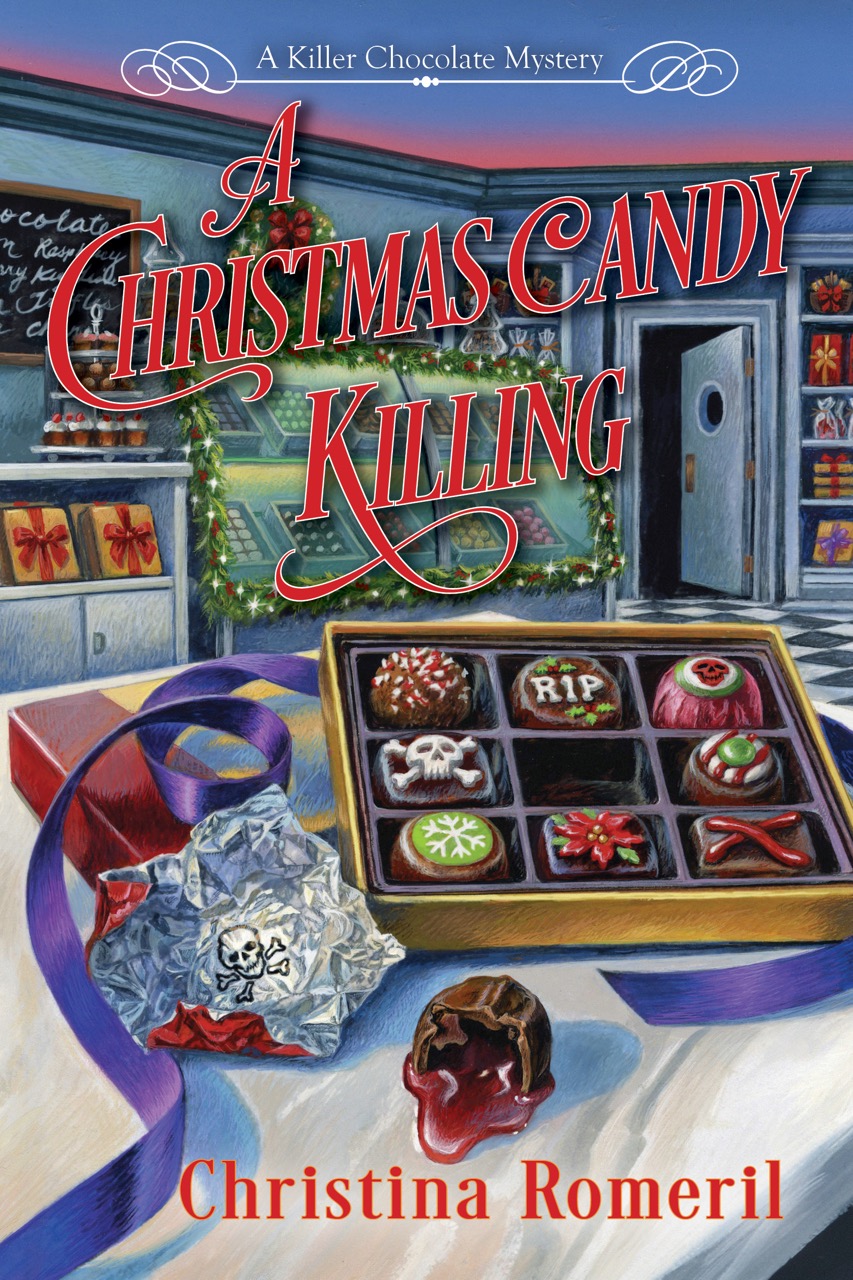 "(An) exceptional debut…With its inventive premise, this cozy stands out from the pack." –Publisher's Weekly Starred Review
NOW AVAILABLE IN PAPERBACK
Their chocolates are to die for-but things aren't so sweet when a real killer comes to town, in this debut mystery perfect for fans of Joanne Fluke and Laura Childs.
Identical twin sisters Alex and Hannah are the owners of Murder and Mayhem, a mystery bookshop that sells their famous poison-themed Killer Chocolates. But now, there's a real killer in their midst. Shortly before Christmas, their septuagenarian neighbor, Jane, confides to Alex that a murderer from a true-crime show has taken up residence in the village. Unfortunately, she's also shared her suspicions with town gossip Netta. The next morning, Alex shows up at Jane's house to watch the show, but instead discovers Jane's body, with a box of Killer Chocolates nearby.

The sheriff quickly zeroes in on two suspects: Alex, a beneficiary in Jane's will, and Zack, a handyman who was seen leaving the crime scene. But Alex maintains her innocence and sets out to draft a list of other potential suspects—townsfolk who'd recently been seen arguing with Jane.

When Alex gets hold of Jane's journal, she begins to understand the truth. But a bearer of ill tidings is arriving early this year—and Alex just might not make it to Christmas.

A Christmas Candy Killing is available for pre-order on all major retailer sites. Including:
Amazon
Target
Barnes and Noble
Chapters/Indigo
Books-A-Million
Kobo
Apple Books
Indie Bookstores
"A CHRISTMAS CANDY KILLING draws you in from the first page with its murderous chocolate delights and keeps you guessing until the very end. Twin sisters Alex and Hanna are sleuths you'll be rooting for in this festive debut set in a charming Montana bookshop where Veronal Vanilla Creams and murder are on the menu!"
–Ellie Alexander, author of the Bakeshop Mystery series