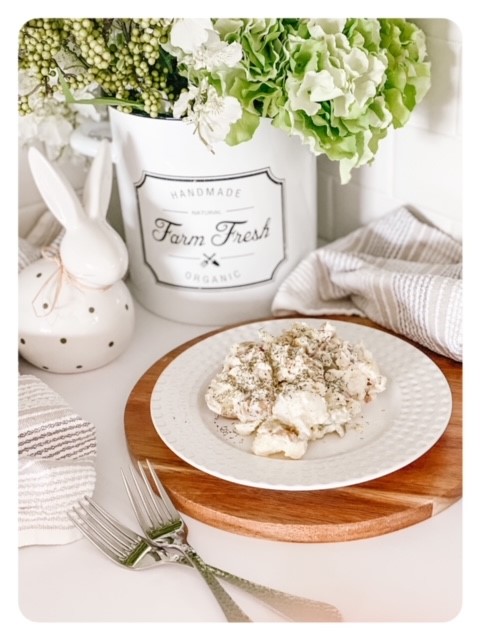 This is a super easy, adaptable recipe for potato salad. And I am definitely all about easy, not me personally, get your mind out of the gutter. I'm talking about cooking here. Unless I need pictures for my social media channels, I don't cook much outside of Christmas and Thanksgiving. That may be a slight exaggeration, but I'm sure my husband would say, not much of an exaggeration. Now baking is a little different, I do bake more frequently as I am cursed with a sweet tooth. A discerning sweet tooth though, no mass-produced, boxed pastries allowed.
In case you don't know me, my ancestry is German. Both my parents are from Germany though they met in Canada via a personal ad, but that's another story. So, I grew up eating a fairly European diet. I didn't know what Kraft dinner was until I was sixteen. True story.
My mom made potato salad for us year round, but mainly in the summer. She usually paired it with one of three things: European wieners, they are a bit different from your typical hot dog, breaded pork chops, served cold, and fried chicken, also served cold. These were her go to meals for road trips and picnics, as well as her make ahead meals for our, May through September, weekends at our trailer in Muskoka.
When my mom made the potato salad, she would use large whole potatoes with skin on. She would boil them until they were done, but not overdone. Then, while hot, she would peel the skin off the potatoes. I don't know how she did it. When I tried that method I had to use dishcloths and oven mitts to hold on to those potatoes because they burned my fingers. I can still feel the pain in my memories if I close my eyes. So, now I use baby potatoes and cut them in half and leave the skin on (more nutritious, and so much easier). I slice them up further once they've been cooked and drained.
Quantities in the recipe are obviously dependent on how much potato salad you need. And much comes down to taste. Each batch is different. My husband isn't keen on onion, so I don't put much in, though I think it tastes better with more onion (and I add some to my portions.) I adjust the number of eggs and pickles to suit my taste. My mom and I don't skimp on mayonnaise. Potato salad should be creamy. When I'm looking to reduce my carbs, I use cauliflower instead of potatoes. I've also been known to add things like sliced radishes and celery. I also like cumin and curry, so I've been known to add those as well. Make it your own.
German Potato Salad Recipe
5-6 cups of baby potatoes, skin on, cut in half OR regular potatoes cut in quarters OR if you like burned fingers, do it my mom's way
5-6 hard boiled eggs, sliced
3 large dill pickles, diced
¼ cup red onion, diced
Pickle juice, to taste (at least ¼ cup)
Mayonnaise, to taste (start with ½ cup)
Dill (fresh or dried, to taste)
Salt and Pepper, to taste
Method:
1. Boil your potatoes in salted water with a pat of butter. They are done when they are tender but not too soft. Drain. Cut up potatoes to a bit larger than bite size. Place in large bowl.
2. Boil your eggs until hard centers. Take shells off and slice right into the bowl.
3. Add your diced onion, pickle juice, mayonnaise, dill, salt, and pepper.
4. Mix. Taste. Adjust the ingredients in step 3 as needed.
That's it! Easy.
I'd love to see your version. Post it on Facebook or Instagram and tag me. Happy cooking.